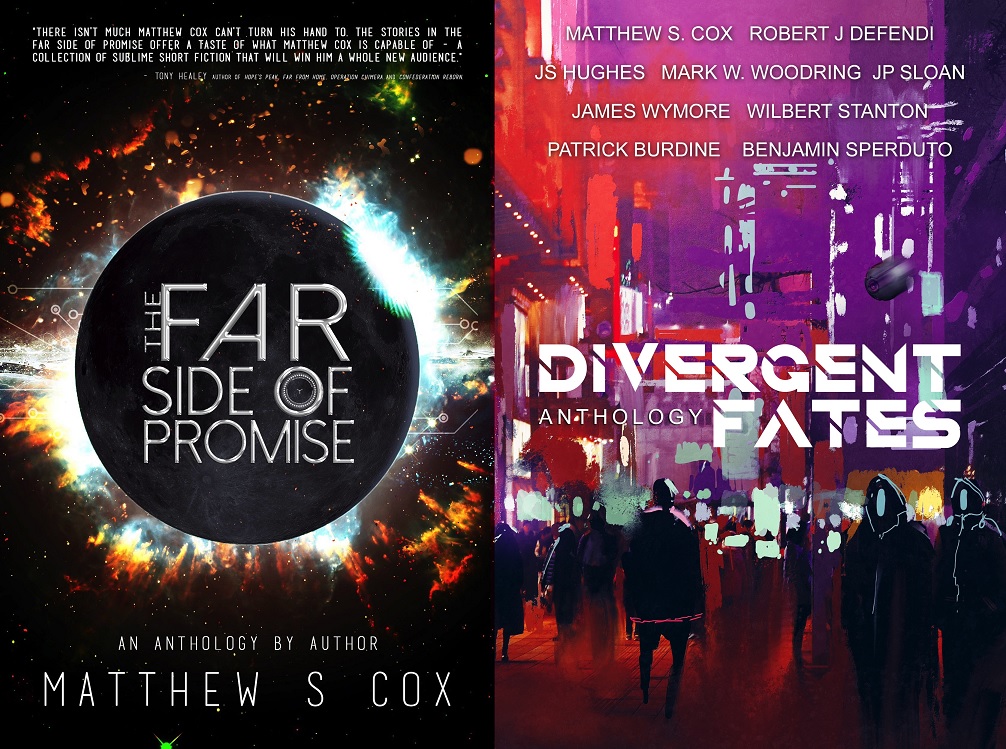 Greetings!
Couple of updates today, but I'll start off with a freebie on #Kindle. Both of these anthologies are free for the next 5 days.
The Far Side of Promise is a multi-genre anthology of short stories that contains cyberpunk, thrillers, contemporary horror, space sci fi, and also a peek into the childhood of Kirsten Wren from the Division 0 series.
The Divergent Fates Anthology is a collaboration of multiple authors all exploring my Divergent Fates universe – everything from the Badlands to Japan.
Both are free until 9/4. Grab 'em here:
---
More updates
I've been extremely busy lately republishing my books independently. Many of my older titles have been edited and revised (mostly mechanical stuff, no significant changes to story or plot). The new edition of Caller 107 does have about 10k more words than the original (and I pared back on the cursing a tad).
Coming Soon:
The next two books in the Tales of Widowswood series are ready to go – except for covers. I will be releasing them as soon as covers exist.
Also, Angel Descended, the final book in The Awakened series is in the same boat – just waiting on a cover.
Ascendant Revolution, the third book in the Faded Skies series is also waiting for a cover.
And finally, Dead Man's Number, the finale of the Roadhouse Chronicles is also done and ready, just waiting for a cover.
Paperbacks
I am going as fast as I can to release paperbacks of some of my books that have gone a long time without paper editions. The hold up is finalizing the wrap covers. Some of the ones that have been missing PBs for a while are now up.
Signed copies are available directly from me for $10 each (except for the fat books which cost a bit more to print) when paperbacks exist.
Next Projects
Now that the dust is starting to settle from the massive re-release project, I am cleaning up some editing work. The next new novel project I intend to work on is a collaboration with J.R. Rain for the third Winter Solstice novel. After that, I may return to the Temporal Armistice series for book three.
Happy reading!
-Matt