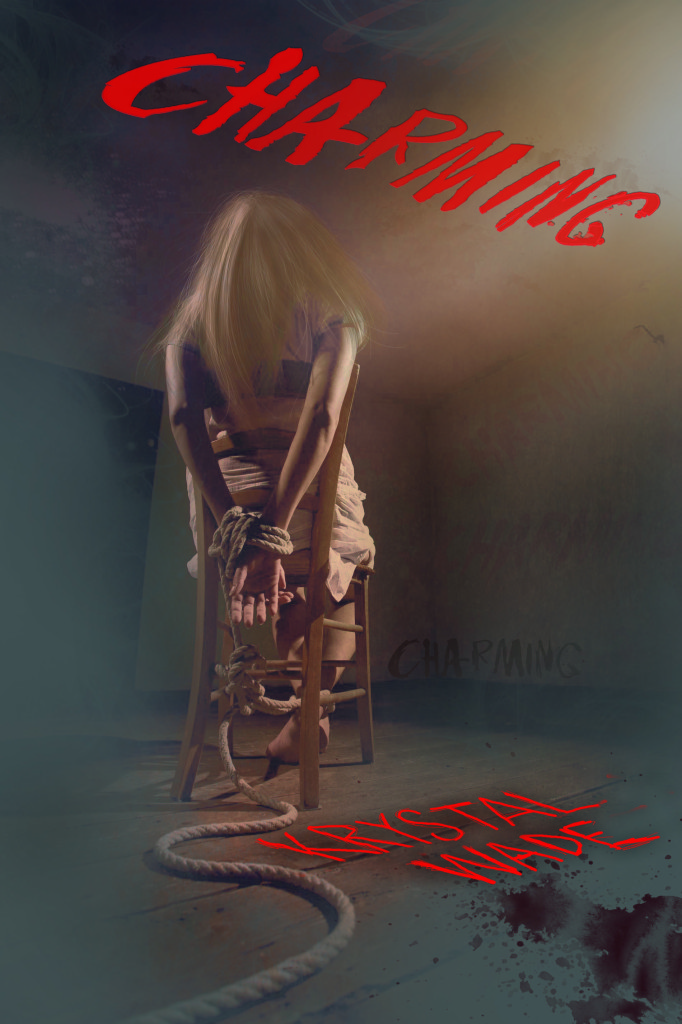 They say what doesn't kill you makes you stronger, and that's great . . . as long as you don't die. Sixteen-year-old Haley Tremaine had it all: top-notch school, fantastic family, and a bright future, but all of that changed when an accident tore her family apart. Now, an alcoholic father, a bitter younger sister, and a cold headstone bearing her mother's name are all she has left.
Chris Charming has it all: a powerful CEO for a father, a prestigious school, and a fortune at his fingertips, but none of that matters when he lands a reputation as a troublemaker. Struggling to follow in his father's footsteps, he reaches out to the one person he believes truly sees him, the one person he wants: Haley.
Little do they know someone's determined to bring the two together, even if it means murder.
Available at: Smashwords | Barnes & Noble | Amazon
————————————————————————————————————————-
Many months ago, I had the good fortune to be involved with the publication of CHARMING, by Krystal Wade. It doesn't feel like all that long ago I was typing up proofreading notes and plot commentary to send back to Curiosity Quills. I would have reviewed this, but it felt like a conflict of interest due to my (however minor) involvement in its creation.
Nonetheless, this was a great book. It's Young Adult, but the pacing was perfect, Krystal keeps the reader guessing at who the bad guy is right up until the end when everything simultaneously blows up and comes together to make perfect sense. The characters are well-portrayed, believable and emotional in a way that brings you right into the story. Without further ado, here is the interview that Krystal was generous enough to answer, as well as an excerpt from the book.
Interview
1. Did you draw on anything in the real world for inspiration for Charming?
Absolutely. I used a lot of personal experiences or things I witnessed to build the characters. Everything one of the characters went through is something that me or someone I know went through.
2. Are you an outliner or a pantser?
Both. This totally depends on the book, but the more books I write, the more I tend to outline. Very detailed outlines at that. Charming's was 20,000 words long!
3. What was the most interesting part of conceiving/writing/publishing Charming?
Most interesting? Well, I'd have to say that this story, more than any other, wouldn't let me go until it was finished. I wrote Charming in two weeks (after research and outlining). Two weeks! And while I still went through a normal editing process, I'd never put anything to paper that fast before.
4. If you could wave a magic wand and change anything about Charming with no effort, would you change anything, and what?
I wouldn't change a thing. That story is exactly how I want it to be. People will like it while other people may not. But for me? I'm absolutely thrilled with it, and that's really all that matters.
5. Do you see the character of Haley's father as a villain or a victim?
Ooh. That's a tough question. He's a bit of both, a victim of addiction and a villain to his daughter. I imagine if he'd had an intervention earlier in life, maybe he wouldn't have been such a villain. In the long run, though, he is a bad guy and will remain so until he and Haley come to some sort of acceptance of each other.
6. Do you have any current projects? What's next?
Well, yes, yes I do. Do you know any authors who don't have projects going on? I'm working on a book called The Unraveling of Willard Hill. It's a magical realism novel, but mostly thriller, and I hope to release it in October of 2015. I'm also working on Shattered Secrets 2, which I'm hoping to release in the spring of 2015!
7. What authors do you consider your greatest influences?
That would be writer, not writers. When I need inspiration or to be reminded of great storytelling, I reach out to Maggie Stiefvater. I love her voice. It's in everything she puts out, and it's magical and enchanting and inspiring!
8. What was the most surprising thing to happen/be said to you regarding Charming?
Hmm. There's something I want to say and something I should say here. I'm kind of struggling with what's going to be okay. 🙂 Let's just say that initially it wasn't received well by people I needed to receive it well. And it's also a book my beta reader, who reads ALL THE TIME AND OFTEN, said is the best book she's read in a long, long time. In fact, she's read it several times–and not because I've asked!
Excerpt:
"Come with me?" Chris pulled his face back but kept his body perfectly aligned with hers, perfectly touching.

"Where?"

"My room."

Haley took a step back. "Chris—"

"To talk, away from the watchful eyes of Deerfield's best gossipers." Chris shrugged and looked pointedly around, guiding Haley to do the same.

"Oh."

Everyone had their eyes glued to Chris and Haley, new CEO's son, former CEO's daughter. Very juicy gossip.

Keeping his fingers laced with hers, he led Haley up the deck stairs and into the two-story den. Windows spanned the length of one wall, and a fire burned in the brick fireplace. A few people sat on the sofa, close and cuddling, flirting. Chris inclined his head when they said hello, then kept walking with her up the wide, wooden staircase, along the catwalk and into his room. He led Haley through the wide open and bright space—such a clean, neat space—and to the couch in a little nook created by slants in the roof, a half-octagonal shape.

She took a seat on one of his huge, overstuffed beanbags—not childish things, but soft leather, cool at first but instantly warming. Chris grabbed a remote, pressed the power button, then tossed the thing to his bed and took a seat next to Haley as soon as the music drifted from unseen speakers.

"How do you do it?" he asked.

"Do what?" Haley played with the hem of her dress, careful not to turn into him too much and give him the wrong idea.

Chris took her hand again and placed it on top of his, then used his index fingers to draw little circles. "Anything, everything. Your mom was CEO of Berkshires; people loved you. Your mom's been away for two years; they still love you. You attend that school—"

Haley slipped her hand free and balled it in her lap. "People don't love me there."

"I doubt that very much." Stretching out, Chris turned on his side.

"How is the school?"

"Boring." Boring and packed with bodies and not challenging enough to hold her attention. "But fine."

"Guys?"

"Are you asking me if the school has guys, or are you asking something else?"

He scooted a little closer, his body heat reaching across the few inches between them and assaulting her with desire. "Something else."
Krystal Wade is happily married to the love of her life (don't gag) and raising three beautiful children in the gorgeous state of Virginia. They live just outside Washington, D.C., and every day she wakes up to find herself stuck in traffic trying to get there. When she's not working, commuting, or chasing after her three children (four if you count the man), you can usually find Krystal outside talking to her chickens like they're the cutest things in the world (they are), or training her amazing dogs how to herd said chickens (which they love), or curled up on the sofa with a good book (why can't that be 100% of the time?).
Tour Schedule:
Sept 29th: Fresh Fiction (Guest Post) and Reader Girls (Spotlight w/Excerpt)
Sept 30th: Coffee Books & Art (Guest Post) and A.K. Morgen (Spotlight w/Excerpt)
Oct 1st: Katie's Stories (Guest Post), Obsessed by Books (Spotlight w/Excerpt & Review), and The Power of 3 Readers (Spotlight w/Excerpt)
Oct 2nd: Sated Faery (Interview) and BBS Book Reviews (Spotlight w/Excerpt)
Oct 3rd: Matthew Cox Books (Interview & Spotlight w/Excerpt)
Oct 4th: Indie Authors, Books, and More (Review)
Oct 5th: The Writer's Block (Interview & Spotlight w/Excerpt)
Oct 6th: RomanceJunkies.com (Interview) and Sharon Bayliss (Review)
Oct 7th: The KariAnnAlysis (Review) and Bookcrastinators in Wonderland (Spotlight w/Excerpt)
Oct 8th: Reese's Reviews (Spotlight w/Excerpt & Review)
Oct 9th: Vicki Keire (Interview)
Oct 10th: A Creative Mind (Review) and Bending The Spine (Spotlight w/Excerpt)
Oct 12th: Elizabeth Seckman, Author (Guest Post)
Oct 13th: Paranormal Book Club (Spotlight w/Excerpt)
Oct 15th: Kindle and Me (Spotlight w/Excerpt & Review) and Eliza Tilton (Spotlight w/Excerpt)
Oct 16th: Summer Weir (Spotlight w/Excerpt)
Oct 17th: Lisa's Book Lair (Guest Post ) and Epic Narrative Book Reviews (Guest Post)