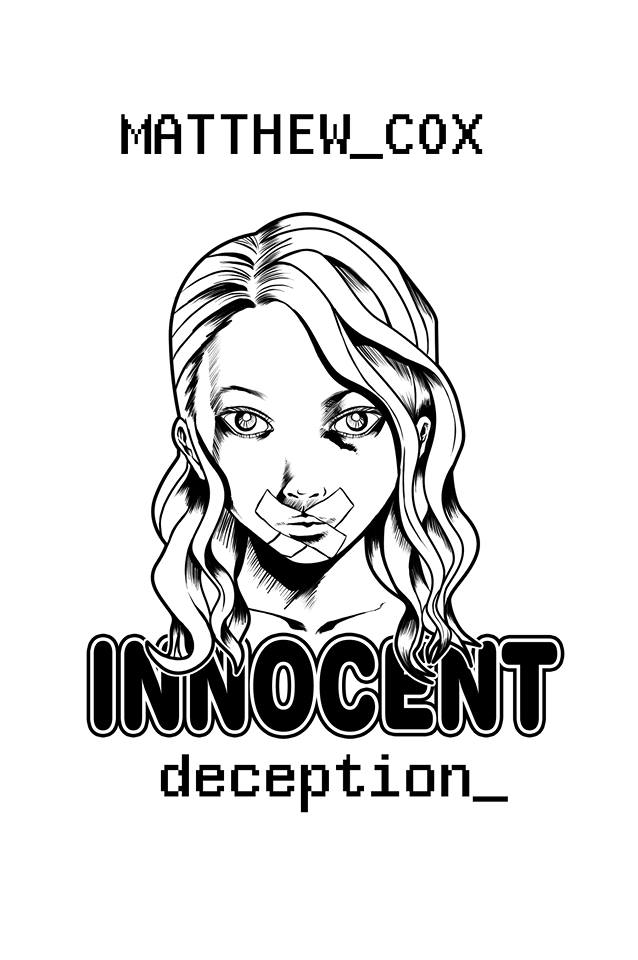 World War Three has plunged the Earth into a new dark age. Citizens live carefree lives in gleaming cities, safe from the worry of The Fade. The vicious alien infection drains its victims to slow, painful deaths. Ascendant Pharmaceuticals has a cure, but charges an exorbitant amount per dose. Nine-year-old Maya Oman is the heir to an empire built on suffering, and the key to a risky plan.
—
Today I finally got to see the interior artwork for my short story Innocent Deception, which is due out later this year in November, as part of the Curiosity Quills Primetime Anthology. I couldn't be happier with the way the artwork came out… the artist, Ricky Gunawan, did an amazing job with it – as well as the rest of the header images. This anthology has quite a few stories from many talented authors, including one by Piers Anthony.
I can't get over how this story almost wasn't written… Early in 2014, CQ put out an internal call to their authors looking for submissions for the next upcoming yearly charity anthology. It had been some time since I wrote a short story, but for no particular reason I can think of, I got hit with about six ideas all at once. So, being the indecisive waffler I am, I wrote them all and sent them in for consideration. Upon receiving the barrage, they raised the idea of putting out a separate anthology of my short stories (the count of short stories has since grown to ten) which I was quite grateful for.
While waiting to hear if one of my submissions got chosen, I got around to sending some of the shorts to other people to read and give feedback on. One person (Looking @ you Tiffany) rather liked the MG Fantasy short "Banderwigh", and complained that it was over too fast. I pondered this for a bit, and after getting some more encouragement from CQ, decided to expand that into a novel-length story (Emma & The Banderwigh), which (/snoopydance) CQ has signed.
So, this left me with a conundrum of sorts. I had a full length version of it and a short story version of it, which, during the editing process would be a bear to keep consistent. For several days, I waffled back and forth on whether or not to keep them as two separate things or just drop the Banderwigh short from my anthology. Of course, if I dropped it, I'd want to do something to replace it with to keep the story count up. So, I spent a few days thinking about what I could replace it with and if I should replace it at all.
During this time, the idea that would become Innocent Deception popped into my head and wouldn't go away. While Banderwigh was a fantasy story (set in a world of magic and creatures), I kept circling back to a cyberpunk/apocalyptic setting where a group of desperate individuals attempt to kidnap the little daughter of the head of the powerful Ascendant Corporation in effort to extort money (and other things). [No, I didn't know what I'd call it at the time]. Perhaps a part of my brain wanted to replace a child protagonist with a child protagonist despite the setting being drastically different, and the tone elevated. I don't consider Innocent Deception MG, despite being from the POV of a nine year old.
So, anyway, there I was with "maybe i'll replace it" rattling around in my head and bits and pieces of this story refusing to go anywhere. After about a week I said 'to heck with it' and worked up an outline. I had a lot of small details I needed to keep straight, and I am an outliner at heart. I outlined about 4k words for a short story that's about 14,500.
Honestly, at this point, I wasn't even thinking of the CQ anthology, I figured the door for submissions was closed already and I wanted to replace Banderwigh in my anthology. Given it was so late sent to them, and almost didn't even happen, you can imagine my (rather pleasant) surprise when I found out CQ had selected it to be part of the Primetime anthology as well.
It feels like one of those videos where a cop has stopped someone on the side of the road and as they are walking up to the other car a truck screams by and almost hits them… but doesn't. I have a similar "holy crap that was close" feeling here, though I don't  need clean underwear like that cop must have.
It is both an honor and a thrill to share the company of the other authors whose work is included in Primetime. I am keeping my fingers crossed it reaches a lot of people, and hope  if you are reading this, you might feel inclined to pick up a copy when it comes out. Ten percent of the proceeds are going to benefit no-kill animal shelters.