Okay, so yet again it's been awhile since I've posted an update here. The whole blogging thing is something that came about as a result of my foray into the world of publishing. I consider myself fortunate to have been signed by Curiosity Quills press for my fiction novels, and one of the things they advised early on was for me to have a blog.
One may wonder how someone who can write 100k+ word novels would have difficulty dropping a blog post in here and there. Well, for one thing, coming up with a story in a novel format seems to come easy for me. Finding things to write about on a blog though, is another story. Perhaps I could toss up random opinion pieces about various things, but the internet is already full of that. I don't really consider myself an authority on any particular subject (though I can fake my way through sounding like a writer well enough I suppose). Granted, writers writing about writing is about as cliché as the mirror trope of chapter one. Alas, I've done it – I'll probably do it again just for something to post about… probably after the next recurring issue irks me while editing other people's stuff.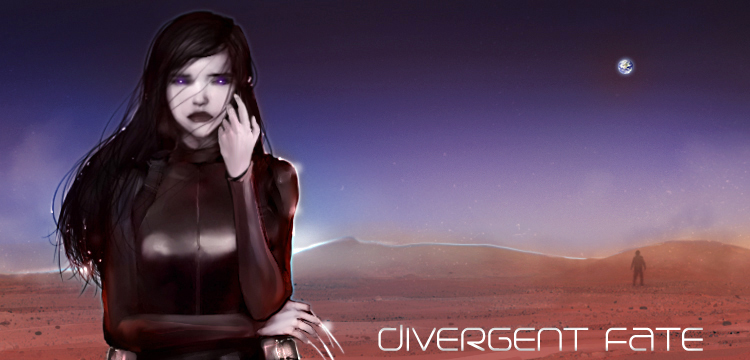 When I first started this blog back in 2013 (soon after CQ signed Division Zero #1), I struggled to find stuff to write about. I got what I thought was a good idea: I know, I'll do a fiction serial! So, I started posting a story in (initially 500 word, but they got fatter as time passed) increments, once a week. Originally, I titled it "Divergent Fates," which is the name that I'd been using for the setting [that I first developed for a custom roleplaying game] back in 1996. (No, it has nothing to do with the Divergent series, just shares one word.) The premise of the story (and title) referred to Earth and Mars going in different directions (politically) and the increasing rift between Earth government and the citizenry of colonized Mars.
With the Division Zero and the Awakened series (set in the same world), there is an emphasis on psionics. With this story, I let the paranormal fade to the background to delve into an old-school cyberpunk story, only set on Mars.
Fast forward two-ish years.
I posted another installment to the serial fiction here, and I thought, "hey, this kinda sounds like the end of a novel… a good place to stop." That made me look back at the whole of the posts and I found that I'd gotten about 101k words down. The whole time I'd been posting these stories, I'd been working on other novels, but lo and behold, I had a rough cut of another novel ready to go. (It kind of felt like some mystical entity came out of nowhere and wrote a book for me – ahh the disassociation of time.)
I checked with CQ to see if they'd entertain the idea of publishing a book that had been "out in the wild" as a blog thing for over a year, and they were receptive to the idea. I collated all the posts into a manuscript form and did some reworking to make sure the thing flowed. (One downside to the serial format was that each blog post had a "chapter ending" feel to it, even though they were too small for a chapter.) After 'mortaring all the bricks together' with additional text, the manuscript grew to about 140k words.
And thus, The Hand of Raziel came to be. (Released August 8 2016). Note: ebook copies are available in exchange for honest reviews. (Email me to request).
The next two books in the Daughter of Mars series I wrote with my normal process (they weren't ever posted online). Aside from me not taking two years to finish them, it made the editing process a lot easier.
Paperbacks for Hand of Raziel should be available soon, but I don't have any firm date yet for when.
---
I would like to send out a big thank you to everyone who has read and reviewed my vampire novel, Chiaroscuro – The Mouse and the Candle. I am overwhelmed by the surge of positive reviews, which has far exceeded my expectations. It's humbling to see that so many people enjoyed the story I wrote.
---
Next month, on September 15th, my third young-adult novel is coming out. Nine Candles of Deepest Black is a YA horror (the first time I've set out to write a horror novel on purpose), that follows sixteen year old Paige Thomas as her family moves out a quiet little town in the wake of a family tragedy. Soon after arriving, introvert Paige gets drawn in to a group of local outcasts who have been dabbling with witchcraft in an effort to improve their lives, but nothing has happened. Paige has a gift, last seen to manifest in her maternal grandmother, who everyone thought was 'eccentric.' When her new friends invite her to their 'circle,' Hell (quite literally) breaks loose.
https://www.facebook.com/events/572746646267202/
I'm doing a Facebook release party on 9/15. All are welcome to join in from 7-9 pm Eastern time for a chance to win some stuff.
Book Bloggers/reviewers: Early review copies of Nine Candles are available. Email me at mcox2112 (gmail), or email Marketing (@curiosityquills.com) to request.
---
I am currently working on the first draft of The Harmony Paradox, a sequel to Virtual Immortality. I'm nearing the end and expect it to come out to about 200k words (around the same size as VI.) I've also got a story plotted out for Emma and the Silverbell Faeries (Book 3 in my middle grade fantasy series, Tales of Widowswood). The second book in that series, Emma and the Silk Thieves, is due out this coming January.
Anyway, I suppose that's enough of a ramble for now.
Happy reading,
-Matt