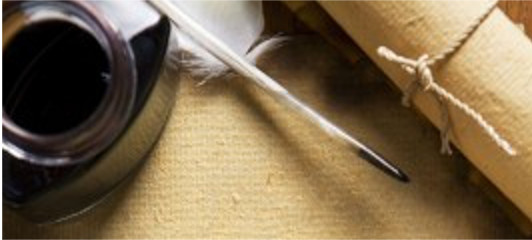 What a difference ten novels make. I recently got the manuscript for Prophet of the Badlands back from Curiosity Quills' proofreader. For some reason, it took an abnormal amount of time to make its way through the process – but I can't say it was a bad thing. In fact, I am confident it will result in a stronger work. Prophet was the third full-length novel I wrote, following Virtual Immortality and Division Zero 1. After I had finished Virtual Immortality (around self edit 2) I had a bit of a conundrum as to which to do next, Division Zero or Prophet. I wound up writing Division Zero first, but always with the feeling that Althea (the protagonist of Prophet) was standing behind me, tapping her foot and impatiently waiting her turn.
Almost two years, and ten novels later, I am looking at Prophet with new eyes. It's frightening and amazing at the same time to peek into the (albeit not-too-distant) past, at the style and manner in which I wrote at the time. Minor mechanical flaws that either escaped notice or knowledge back then now stand out to me as plain as if I'd left a light on during a blackout. The opportunity to remove myself from it for over a year while focusing on other stories, as well as working with a myriad of editors, has been a boon.
There are a handful of quotes floating around regarding writers and a million words. If you count a 400,000 word monstrosity that I attempted a long time ago, and buried deep somewhere, I'm probably getting close to two at this point. Given the the contrast with which I can now view something I wrote almost two years ago, I agree there is something to be said for the idea that a writer must write. While I may be an unusual example of focus (if I am not at the day job or sleeping, I'm writing or editing), the end result of this process is indeed something tangible.
I suppose the message in all of this to other writers is not to dwell on where you are at the moment. Someone once commented to me something along the lines of: "A poor writer writes crap and thinks it's good, while a skilled writer writes something good they think is crap." Write for the sake of writing. Tell a story, and worry later on about making sure none of the mortar is showing through your bricks. Two, three, or six books from now, you'll see the difference.
I know I have.