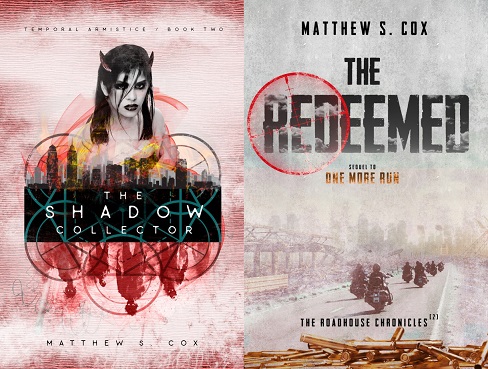 Today marks a first for me. Two novels releasing on the same day! Curiosity Quills got the idea to do a "sequels day," so we wound up releasing the second books of two of my series concurrently. (Don't forget the CQ's site-wide sale is still going on so you can grab the first books in both these series for .99 in the #kindle store.
The Redeemed
The worst part about chasing one's dream is catching it.
Six months ago, Kevin opened a Roadhouse of his own. No longer the idiot braving the dangerous post-nuclear highways of 2073, he thought he'd finally grow old and happy selling bullets, beds, and booze to those still foolish enough to get behind the wheel.
Then, he'd met her.
The white-haired outcast from the xenophobic Enclave crashed into his life, becoming the conscience he never wanted and everything he desired. She couldn't save the world from the Virus, but she could save Kevin's dream.
A biker gang calling themselves the Redeemed starts shooting up Roadhouses in flagrant disregard of the Code, shattering the serenity of his humble waystation. When the long-vaunted retribution of Amarillo's army fails to materialize, Kevin feels more like a sitting duck than he ever did on the road―but it's not his 'house he fears losing.
Determined to protect her, he takes it upon himself to enforce the unwritten law of the Roadhouse.
Read Chapter One • Find it on Amazon • Roadhouse Chronicles Series
---
The Shadow Collector
Brooklyn thought nothing would ever surprise her again after learning her father is an extraplanar being―until the police ask her for help.
For most of her life, the cops have been a thorn in her side, always in the way of a good time. By seventeen, she'd spent more time in police cars than some rookies. With age comes (a little) restraint, and she's managed to avoid getting in trouble for six whole years. Working for the Philadelphia Fire Department offers a sense of belonging and purpose she never had growing up, even if the whole 'adulting' thing sucks.
After responding to a fire call eerily similar to the one that claimed her childhood home, a local detective seeks her out. He's hunting a serial killer who preys on the city's homeless, taking the lives of those no one cares to see. Every victim's body has so far been stolen from the morgue, frustrating the investigation to the point he's willing to rely on a psychic―even a former delinquent.
Brooklyn senses a connection between the recent fire, the murders, and a mysteriously guilty little girl, but her respect for the law only goes so far.
Read Chapter One • Find it on Amazon • Temporal Armistice Series